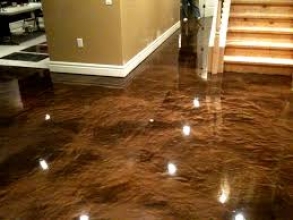 BY Admin
11th Dec 2015
0 Comment(s)
The following are some of the main advantages for choosing an epoxy floor coating for your commercial or industrial building. Our epoxy floor coating products dry to become durable, seamless surfaces that can easily be wiped free of dirt and dust. Because of this ability for easy cleaning, our epoxy floor coating services are ideal for food, beverage, and pharmaceutical preparation and packaging plants. Our epoxy floor coating products turn concrete floors are seamless and du...
READ MORE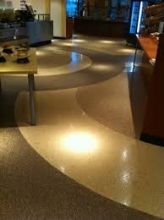 BY Admin
11th Dec 2015
0 Comment(s)
Epoxy floor coatings are durable solutions and hard wearing used in commercial and industrial flooring. These floor coatings are applied over the concrete floors to provide a high performance and attractive surface. Our epoxy flooring experts have experienced advanced environmental Services, installing epoxy floor coatings for a variety of industrial and commercial buildings including industrial manufacturing plants, warehouses, commercial facilities, food and beverage plant...
READ MORE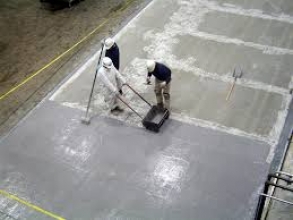 BY Admin
11th Dec 2015
0 Comment(s)
MPR is a professional concrete floor coating manufacturing company which is independently owned and operated by a fabulous team with over years of combined specialty coating manufacturing and formulating experience. Their current product categories include epoxies, solvent based acrylic concrete sealers, polyureas polyurethanes, water repellents, waterborne acrylic concrete sealers, concrete acid stains, water based concrete stains, interior concrete dyes, exterior UV resista...
READ MORE
BY Admin
11th Dec 2015
0 Comment(s)
MPR Techniques' epoxy floor and wall coatings system gives you the wide range of benefits which is required for easy cleaning, powerful pathogen control, lasting aesthetics with benefits and features including resistance to harsh cleaners, disinfectant solvents, acids and alkalis which is highly abrasion and scratch resistant .There is Waterproof systems available along with the UV resistant and color stable. The ability of embed fiberglass for extra strength and ...
READ MORE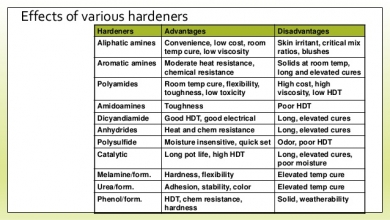 BY Admin
13th Oct 2015
0 Comment(s)
Garage floor Coating includes epoxy paint, floor paints, stains and sealers. Generally, if you apply coating by yourself it costs less. The Garage floor Coating protects against stains, corrosive chemicals and moisture penetration. But coatings can fail for two reasons. First, damp concrete and incomplete floor prep. Secondly, Garage floor Coating can't be used where ground moisture rises and keeps it consistently damp. Moisture prevents the coating from sticking ...
READ MORE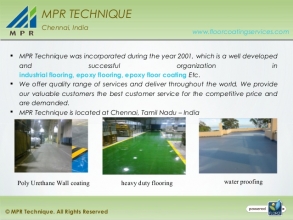 BY Admin
13th Oct 2015
0 Comment(s)
MPR Technique has a wide range of industrial flooring systems that offer highly resilient and durable surface, perfectly suited for the operating conditions of the industrial sector. They provide the complete industrial flooring solutions to match the needs of the clients. They provide a satisfying solution to chemical resistance, abrasion resistance, resistance to heavy loads and ease of maintenance. Our vast performance flooring products offer the strength required to deal ...
READ MORE